In September the Fuzhou premiere in Shanghai, will even play five games, the audience tickets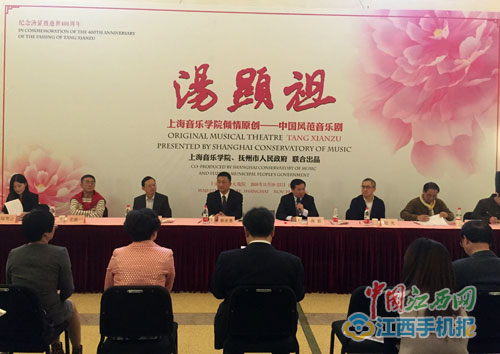 News conference site
Jiangxi mobile news Shanghai correspondent Xie Mengli reports: in November 19th, the musical "Tang Xianzu" in the press conference held in Shanghai, the evening will be officially performed. This is an important performance to commemorate the 400 anniversary of the death of Tang Xianzu in a series of activities, to promote the research and publicity of the Tang Xianzu, and promote the Chinese traditional culture, will have a positive effect and significant impact.


It is understood that the musical "Tang Xianzu" from the September premiere in Fuzhou, and the Shanghai to meet with the audience, this is full of Chinese wind musical continued to rise to concern. This will even play 5 games in Shanghai, the pre-sale tickets all sold out, is hard to get a vote in the hot scene. Most of the audience is young buyers, the market reaction is much better than expected. The musical "Tang Xianzu" is very popular, proof of the extraordinary charm of 400 years after the failure of Tang Xianzu.

It is reported that the Shanghai premiere in the story and the song lyrics are designed to further improve the students and polish, starring AB in two groups increased to three groups. "The ancient drama, fusion of modern wind wind," in the music production, and has a personal "composer Xu feng". The overture as the theme music, both opera, Pingtan, Huaiyang traditional drama elements, at the same time, the use of a large number of Tang Xianzu's contemporaries, such as Nuo opera in Yihuang, but also into Jazz, disco or even Rap and other modern music symbols, style of music makes people not sticking to formalities and a new.
FuZhou is the hometown of Tang Xianzu. Fuzhou city layout three plays this year: Fuzhou accent version of "Linchuan four dreams", "Tang Xianzu", the musical performance of real - "Peony Pavilion" dream. Among them, the Fuzhou dialect version of "Linchuan four dreams" in October at the National Theatre and the Peking University, Tsinghua University for the tour, "dream - Peony Pavilion" will be staged in the next year before may. The musical "Tang Xianzu" works hand in hand with Shanghai Conservatory Of Music.
"Tang Xianzu" series with its Chinese flavor of artistic expression, portrays Tang Xianzu "for the world heart, for Shengmin destiny" Chinese character. In the script writing, the first focuses on the life of Tang Xianzu, in the respect of history and loyal to the historical facts, Tang Weng dream intends to learn from writing techniques, the life of Tang Xianzu a few important experience, cleverly implanted in his "Linchuan four dreams", and through the way through the ancient and modern, seeking a modern interpretation of Tang Xianzu.