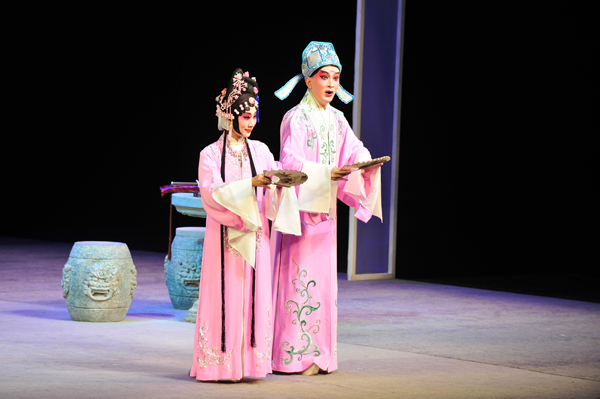 stage photo of "Linchuan four dreams"
"linchuan Four Dreams" performed by Shanghai Chief in the national grand theatre last night ended, the court was packed, did not even vote ShangKun valley of the head of a good, stick a wall can only stand to see the whole game. Otc "cattle" with one thousand yuan high-priced recycling cost less than $five hundred worth of tickets, still hard to get a ticket. Valley told reporters, the performances in Beijing, Beijing audience, media and experts to give a high evaluation, "we are also very exciting."
"Linchuan four dreams" since June grand theatre debut in guangzhou, this is the third "fit", each to a sensation, the Beijing four performances of a full success in the end. This autumn "linchuan four dreams" in guiyang, kunming as a whole, will return to Shanghai to finish by the end of this year's "fit" for the last time.
Last night at the national grand theatre "four dreams" is the most famous and the most JiuYanBuCui the peony pavilion, the youngest collected ShangKun from kunduz newcomer to the national class five old artists bring together three generations of actors, shows the ShangKun echelon personnel training efforts over the years. He class five new youth beautiful beautiful; Kunduz brecilian, shen Yi li in class 3, already have their own fans, starts the a big round of applause; And army of the old artist CAI ZhengRen, Liang Guyin appearance but also by the enthusiasm of the audience, applause name appeared on the cast list has sounded.
This morning, the ministry of culture for held a seminar "linchuan four dreams". Valley says well, "linchuan four dreams" is not for this year to commemorate the 400th anniversary of the death of tang xianzu and special rushed the occasion, but ShangKun ten years of work, the premiere in handan ji a decade ago, the premiere of "purple hair pin in eight years ago, the peony pavilion is ShangKun JiuYanBuCui the bread-and-butter, only the south ko" is a new book this year. "Although" linchuan four dreams "is very fire, but it's a new start." Valley says well ShangKun will continue to listen to all sides, continue to grind the "four dreams", make it become the classic of living in the moment.
Author: jian-hong wang